by Mitchell Durham
Following some fantastic performances at the Oceania Championships, West Australian athletes took a massive leap in the back half of the year. Representing Australia in high quality international competitions and bringing home some solid results.
September was packed with many international opens such as the Banzai Cup in Berlin and the Budapest Open, however the main highlights were at the Commonwealth Championships in Birmingham, UK. Jayda Gledhill, Tegan Forrest, Hannah Sullivan and myself represented Australia and competed with great spirit, and the results definitely followed.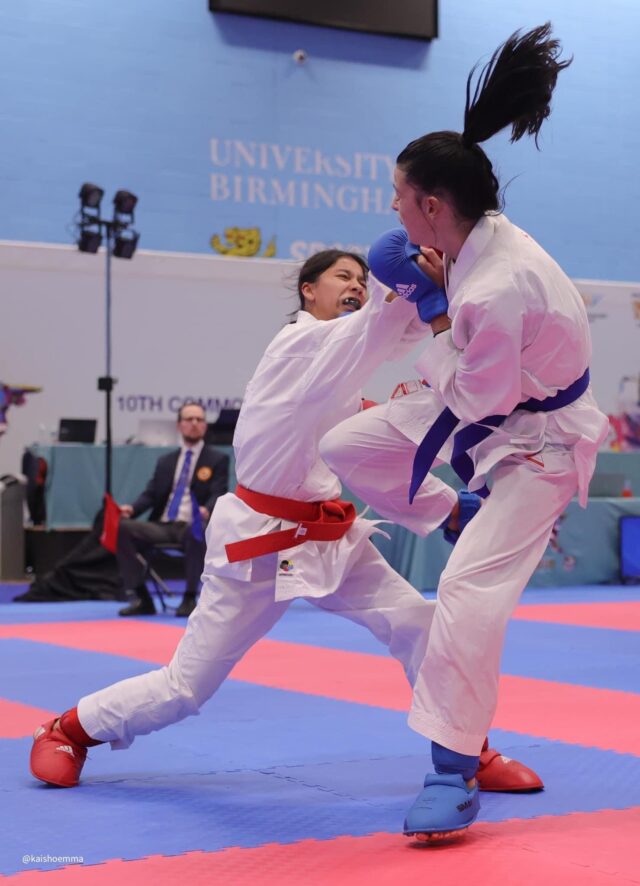 Jayda Gledhill competing Cadet Female Kumite -54kg, Commonwealth Karate Championships – Burmingham, UK
Hannah and I were also involved in the team kumite where the men placed 2nd against England, while the women defeated Canada in the final for Gold!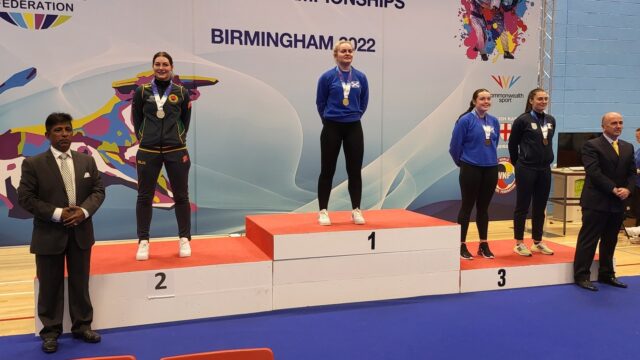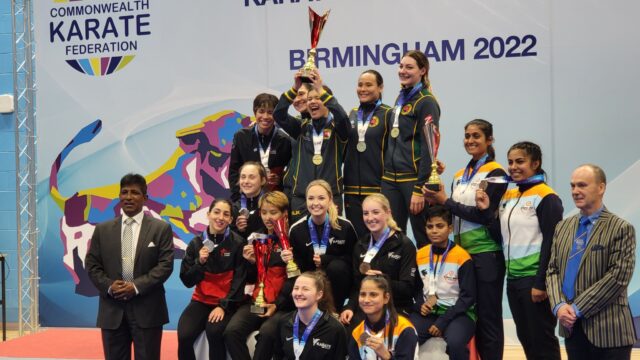 (left) Hannah Sullivan Silver medal – Senior Female Kumite +68kg – Burmingham, UK (right) Hannah Sullivan Gold medal – Senior Female Team Kumite – Burmingham, UK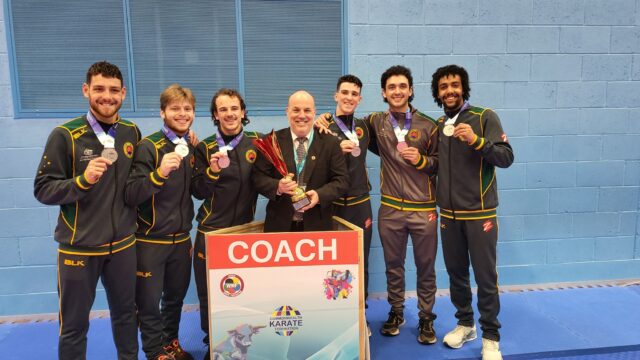 (left) Mitchell Durham Gold medal – Senior Male Kumite -75kg – Burmingham, UK (right) Mitchell Durham Silver medal – Senior Male Team Kumite Gold medal  – Burmingham, UK
The Commonwealth Club Championships were held immediately after with the same athletes now representing their clubs. Jayda took another 3rd place in kumite and Tegan brought home two bronze medals for her individual under 21 and senior division. Hannah and Tegan were also a part of the team kumite, both placing 3rd. I managed to take out the gold for individual kumite and be a part of the gold for the team event – getting revenge on England in the final!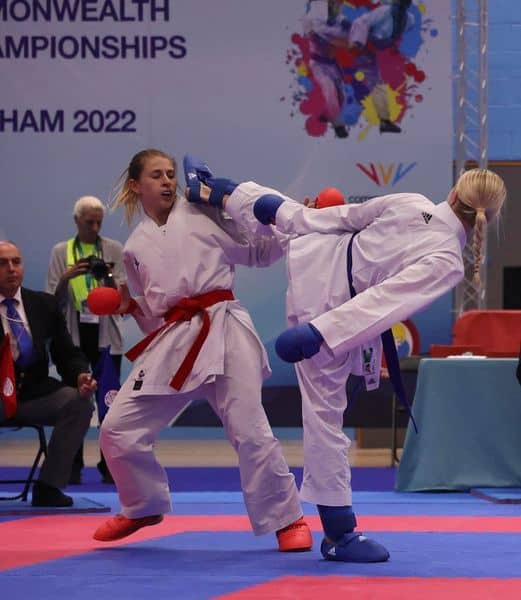 Tegan Forrest competing Senior Female Kumite -61kg Commonwealth Club Championships – Burmingham, UK
Flying to Kocaeli, Turkey for the Karate 1 Series A, Olivia Clifford met up with Tegan and I to represent Australia on one of the biggest stages, with categories having over 100 entries. I managed to get through the first two rounds before losing to the gold medallist which granted me a second chance. I fought through all of the repechage rounds and eventually won the bronze medal. Having the amazingly loud Aussie team cheering and celebrating the win together has to be one of the greatest karate experiences of my life.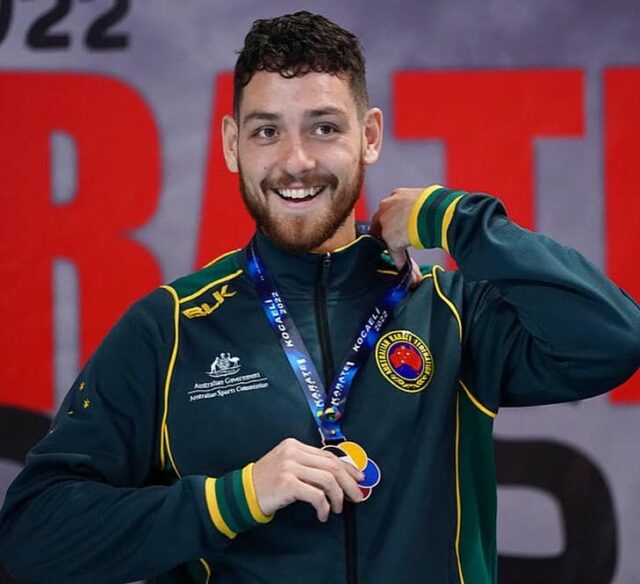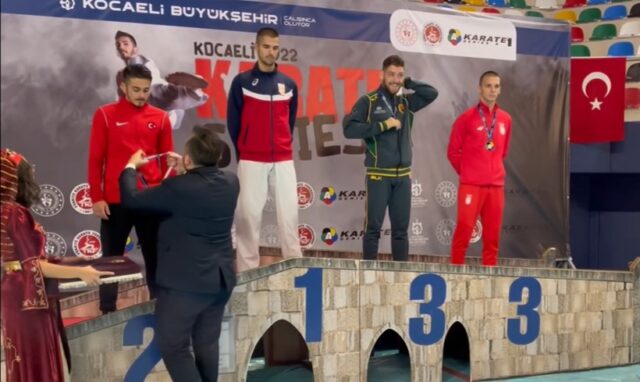 Mitchell Durham Bronze medal Senior Male Kumite -75kg Series A – Koceli, Turkey
Olivia, Tegan and myself flew to the other side of Turkey to Samsun and represented our respective universities in the FISU University World Cup Combat Sports. For the last international competition of September, I unfortunately missed out in the bronze medal match, while Olivia on the other hand fought brilliantly and managed to secure the 3rd place medal.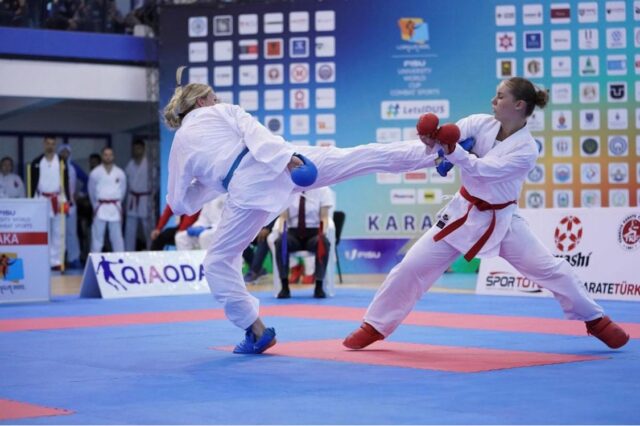 Olivia Clifford competing Senior Female Kumite +68kg FISU University World Cup Combat Sports – Samsun, Turkey
The biggest tournament for karate's youth was held in October; the WKF Cadet, Junior & U21 World Championships. Dylan Fisher was selected for Junior Male Kata and Hannah once again was selected for +68kg Female Kumite in the U21 division. After fighting for her spot earlier in the year at the National Championships, Tegan was also selected to represent Australia in U21 -61kg Female Kumite. Regardless of the results, getting there and competing with the best in the world is an amazing leap forward in their development. I heard along the grapevine that Dylan was a bit of a crowd favourite, collecting many shirts and jackets from other countries.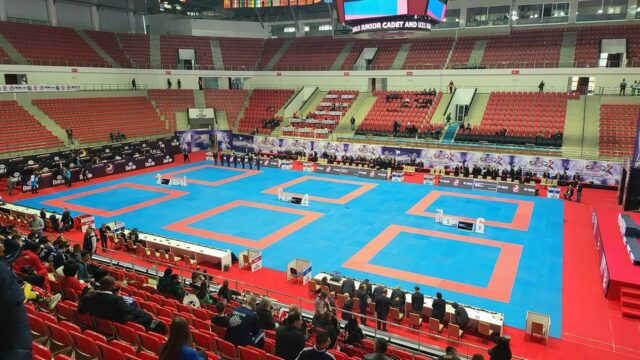 WKF Cadet, Junior & U21 World Championships – Konya, Turkey
November saw Jes Bromley, Hannah Sullivan, Marijana Dimoska and myself compete in Jakarta, Indonesia for the Karate 1 Series A. Marijana's kata performances during the rounds were extremely dynamic and powerful which earnt her a chance to compete in the bronze medal match against Japan. Even though the decision didn't go her way, her Anan Dai was amazing to watch, and for her first international competition in 3 years, that is very impressive. The highlight of the event for all Australians, was watching and supporting Hannah in the final of the +68kg female kumite division. Hannah fought with a lot of passion and determination and all of Australia is proud of her silver medal!
Marijana Dimoska competing Senior Female Kata Series A – Jakarta, Indonesia
In terms of senior individual Karate 1 performances, Australia hasn't seen a medal since 2015. It is quite special indeed to have that drought broken by two West Australian athletes. 3rd place in Kocaeli for myself, and then Hannah's 2nd place in Jakarta only 8 weeks later.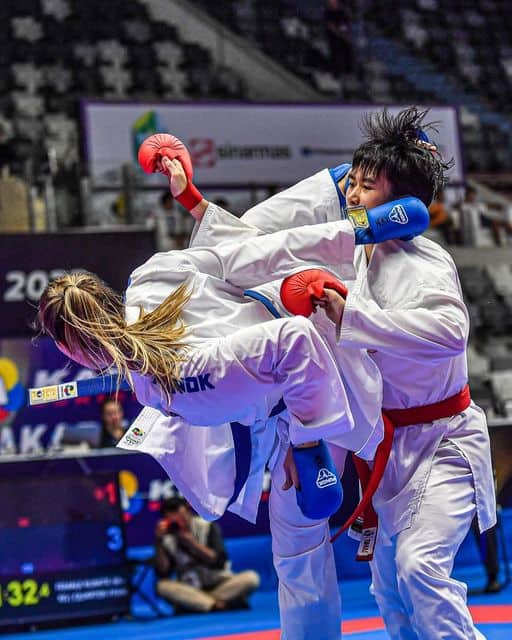 Hannah Sullivan competing at Series A – Jakarta, Indonesia, and silver medal
It is a reflection of this amazing young group of inspiring and enthusiastic athletes, especially the ones from WA. The culture is shifting and growing into something that is hard to stop. I am so excited for the future, to see these kids show resilience and push on for bigger and better things.
Australia is finally making some noise overseas, and it's only going to get louder.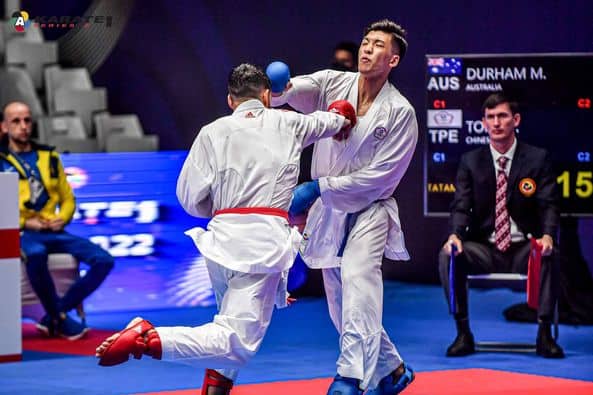 Mitchell Durham competing at Series A – Jakarta, Indonesia